Join Berry Bigfoot at Lone Fir Resort for our first annual Summer Stomp rod run and weekend extravaganza! Stay for the weekend or come out for the day for a full display of: classic cars, great food, and entertainment. A spectacular 2-day event for any car enthusiast including: a poker run, car show, kid's drag race, vendors and so much more. Come enjoy a great day riding the back roads of Cougar, Washington.
Location
Lone Fir Resort
16806 Lewis River Road Cougar, WA 98616
Date & Time
June 11, 2021, 12:00 PM - June 13, 2021 - 9:00 PM
Classes - Awards
Summer Stomp will feature six classes with three divisions. These will include a class for 30's, 40's, 50's, 60's, 70's, 80's and newer. Each class will be divided into three divisions to include trucks, bikes, and imports.
Berry Bigfoot will be awarding custom Bigfoot trophies to all winners.
Check-in and Registration (starts @3pm)
Get yourself setup and checked into your room. Register for all the weekend events.
Social & Cocktail Time (starts around 4pm)
Join us outside for some cocktails and warm fire while you catch up with old friends and met some new ones. Play a game of horse shoes or corn hole.
back to school poker run (leaves Lone fir @10am)
Embark on a sixty-mile visual journey through the Yale Valley, stopping at some of the best scenic lookouts while you draw your cards during our poker run. This event is $15.00 and you need register. If you didn't pre-register, registration opens at 8:00am to 9:45am and is $25.00 per entry.
Free run (leaves Lone fir @1pm)
Friends of the Dam VW club invite you to take a run out to a unkown location.
relax Play & Win (starts around 2pm)
Join us for some fun under the trees, or relax with a cool cocktail or cold beer while you get ready for the back to school poker run results and awards.
Dinner In the forest (STARTS AROUND 5PM)
Dinner in the forest BBQ: choose from a delicious steak or chicken dinner with all the fixins.
50 cent hot dogs live (starts @7pm)
Celebrate with some live music and dance under the stars.
Light it up (starts around 9pm)
Be sure to enter our light it up event and show off your rig at night.
Car show (starts @11am)
Get your polishing rag out, and display your rig for an opportunity to win one of thirty custom-made trophies and prizes. There will be all day events with drawings, prizes, and vendors. Registration starts at 9am and closes at 1pm. Award ceremony is at 4pm. This event is $15.00 and you need register, if you didn't pre-register registration opens at 9:00am-1pm and is $25.00 per entry. Raffles and awards will begin at 4pm. Our beer and BBQ patio will be open for you to enjoy.
Giving Back
It's because of people like you who give so much of their valuable time that local charities are able to continue doing their great work. As our first annual event, we have selected three life-changing organizations that will receive proceeds from the stomp. We know that even the smallest amounts can make the biggest difference for those in need.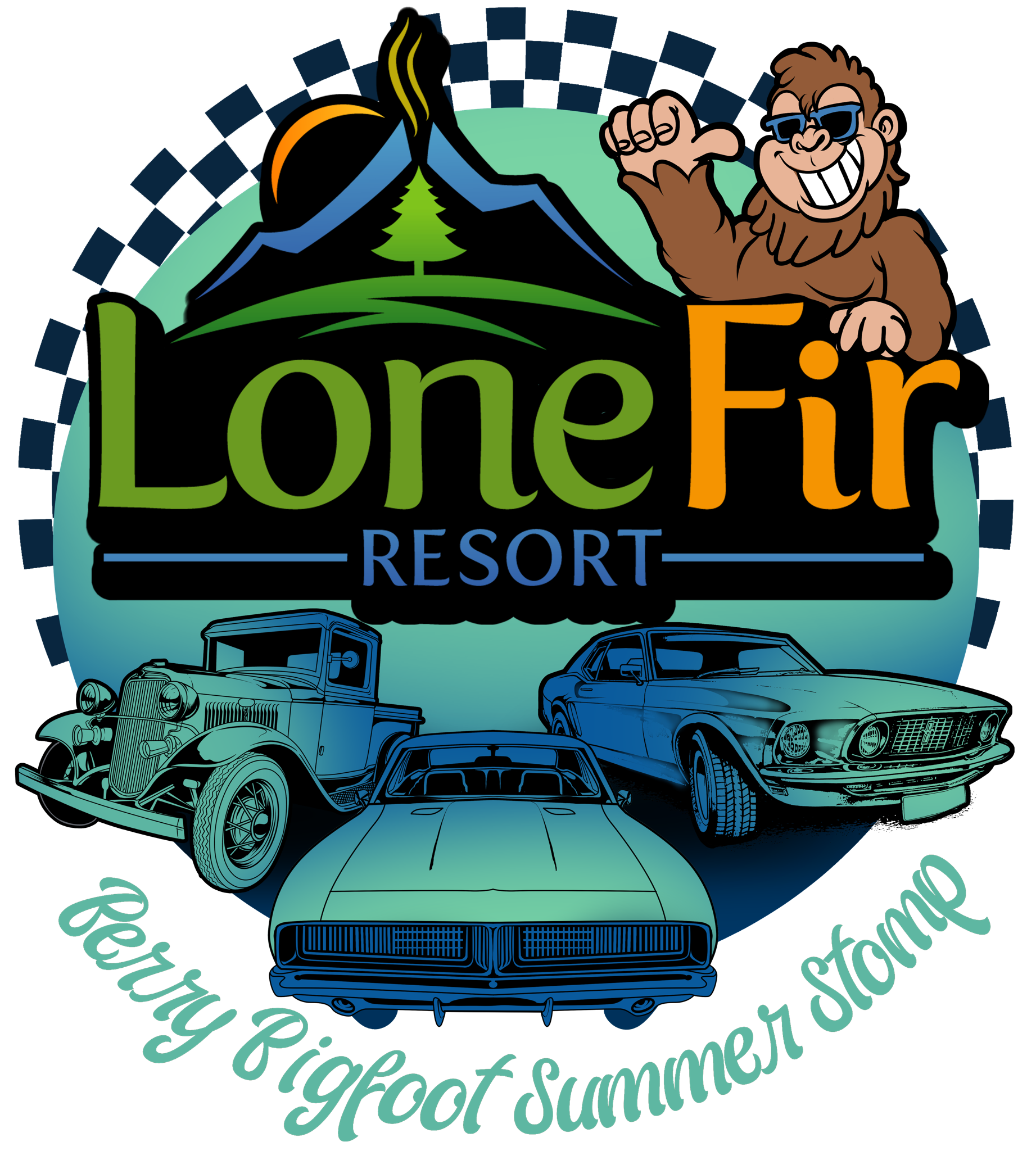 Lone Fir Cares Project
Lone Fir Resort is asking for your help in giving back to a cause the impacts our community directly. We would like to raise money to help local area families pay for their children's school lunches. We all know how important nutrition is for a growing child. It's fuel for not only their bodies, but also their minds. More often than not, a child's only meal in their day comes from their school lunch. But unfortunately, people hit hard times and get behind on those lunch bills and then children suffer. By donating money to pay off these lunch bills and help families in need we ensure that these children have what they need for growth and development.
Kelso Food Bank
serve on average 300 families a week in Cowlitz County. Each family takes home between 25-50 lbs of food a week. Last year we handled 248,000 lbs of food. We also feed homeless and at-risk children in our community directly in their schools through our backpack program. In cooperation with Counselor advice and recommendations, we have created a system that protects the privacy of the child. Backpacks are filled with food and delivered to students before the weekend to provide them with 3 meals and 2 snacks a day until they return to school on Monday, where they are provided school lunch and breakfast. This ensures that these children do no go hungry for the lack of access to food. All the food distributed to these children is ready-made or microwaveable. The demand is growing quickly for more of these backpacks.
BARB'S BOOSTERS and the PURPLE MODEL A
BARB'S BOOSTERS and the PURPLE MODEL A is dedicated to raising awareness and money for research to find a cure for Alzheimer's disease. The Alzheimer's Association leads the way to end Alzheimer's and all other dementia — by accelerating global research, driving risk reduction and early detection, and maximizing quality care and support.
Stay for the weekend
Make it a weekend! Book your hotel or RV site at Lone Fir Resort. Lone Fir is a laid-back lodge and RV park in a spectacular mountain setting offering over 20 unique rooms and cabins in the center of all the action.
use promo code: stomp2021
Location
Lone Fir Resort
16806 Lewis River Road Cougar, WA 98616
Lone Fir Resort offers over 20 unique rooms and cabins with 27 RV sites and tent sites.

Cougar RV Park offers RV sites as well as a few cabins.

Beaver Bay and Cougar Camp offer RV sites.

Next towns with accommodations are Woodland and Battle Ground.
Processing Registration...